Reviews: Iolanthe (2015)
Click here to read the review of our current show, Iolanthe, in the Thousand Oaks Acorn.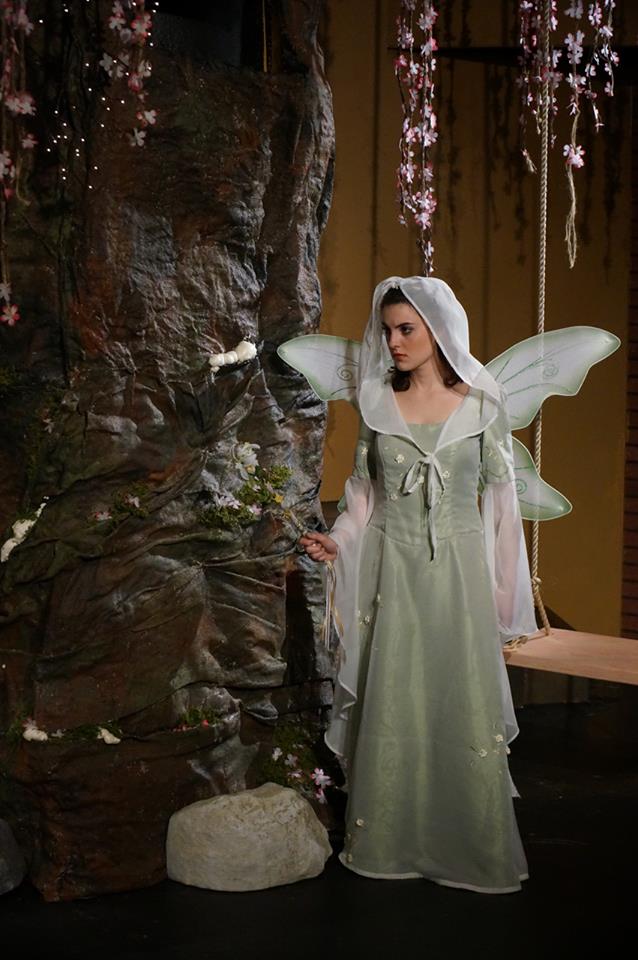 Click here to read the VC Onstage profile of Ariel Downs, currently appearing in Iolanthe.
---
The Mikado (2014)
Click here to read the review of our previous show, The Mikado, in the Thousand Oaks Acorn.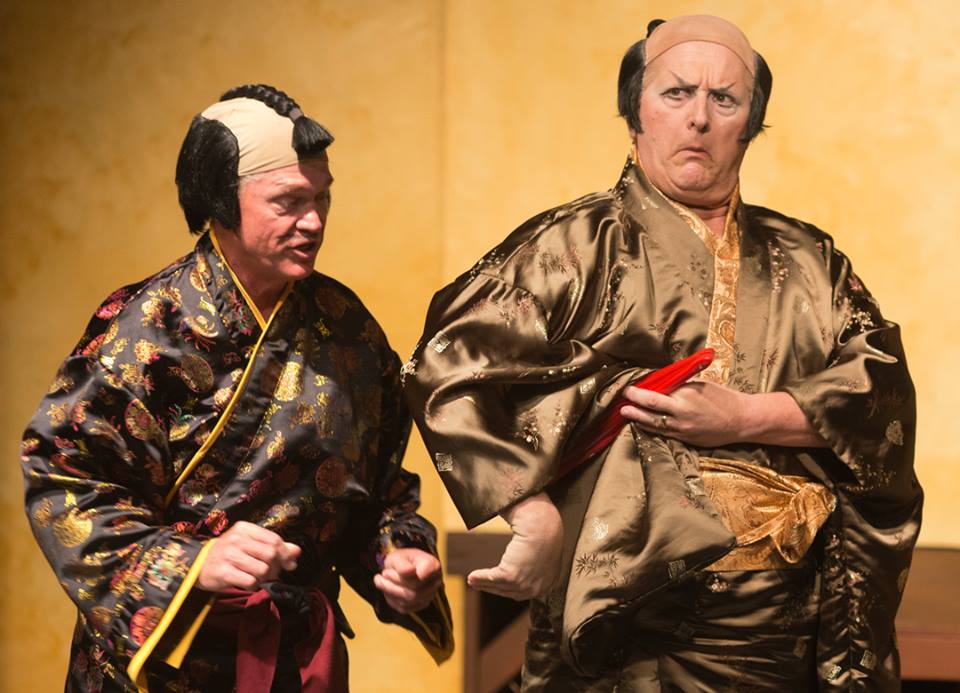 Grand Duke (2012)
Click here to read the review of our Grand Duke 2012 show in the Thousand Oaks Acorn.
Click here to read the review of our Grand Duke 2012 show in the Ventura County Star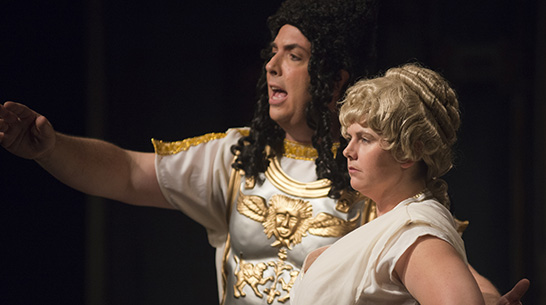 ---
Utopia Limited (2012)

Click here to read the review of our Utopia Limited (2012) show in the Thousand Oaks Acorn.
Click here to read the review of our Utopia Limited (2012) show in the Ventura County Star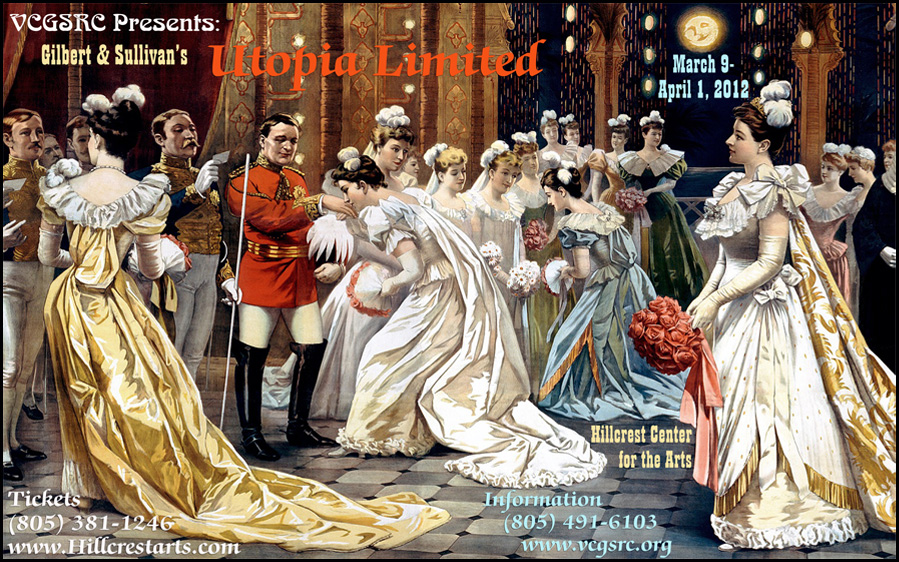 ---
'Gondoliers' is musically enchanting
2011-09-29 / Dining & Entertainment Play review
By Cary Ginell
originjazz@aol.com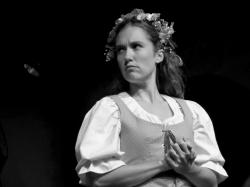 WOMAN SCORNED - Robyn Saxer stars as Tessa in Ventura County Gilbert & Sullivan Repertoire Company's production of "The Gondoliers." The show runs through Oct. 16. CARY GINELL/Acorn Newspapers
The Ventura County Gilbert & Sullivan Repertoire Company continues its stellar series of comic operettas this season with "The Gondoliers," a spirited, melodious offering that is as charming as it is musically entrancing.
Originally produced in 1889,
The Gondoliers
was the duo's final success, running for more than 550 performances, the fifth longest running musical theater show at the time.
Composer Arthur Sullivan had grown weary of writing the light comic travesties and wanted to pursue more serious endeavors, but librettist W. S. Gilbert persisted. Sullivan finally agreed to start work on
The Gondoliers
. But quarrels between the pair and producer Richard D'Oyly Carte resulted in a rift that virtually ended their careers. Gilbert and Sullivan would only produce two subsequent shows, neither of which was successful.
The story takes place in 18th century Venice. Two gondoliers, brothers Marco (Gary Saxer) and Giuseppe (Michael Freed), are so handsome that they are permitted to select their wives from a bevy of fetching contadines (Italian peasant girls).
The men become aware that one of them is the presumptive king of Barataria, a fictional kingdom whose name Gilbert appropriated from Cervantes' "Don Quixote." Until the real king can be identified, the brothers agree to rule jointly, upending the kingdom's class structure by tempering it with "Republican equality."
The cast includes nine major players, with all performing so brilliantly it is impossible to single anyone out. Company regular Saxer delivers another buoyant performance as Marco, while Freed, a cantor and veteran of the Los Angeles Master Chorale, matches him as Giuseppe.
The brothers' wives are played by two supremely talented young actresses and singers: Frances Pillsbury, daughter of producer/actor John and director Rebecca, and Robyn Saxer, daughter of Gary.
Each adds rich, melodious voices to their endearing comic performances, with Robyn singing one of Sullivan's most lilting melodies, "When a Merry Maiden Marries" in Act 1.
Frances Pillsbury alternates with Molly Siskin in the role of Gianetta.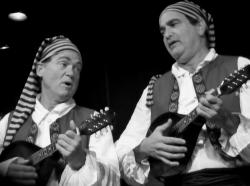 TALES TOLD IN MUSIC—Gary Saxer, left, and Michael Freed portray the Brothers Palmieri in "The Gondoliers." The show is playing at the Hillcrest Center for the Arts.
The gondoliers and their wives sing one of Gilbert and Sullivan's most delightful quartets at the close of Act 1: "Then One of Us Will Be a Queen." Playing the stuffy and ostentatious Duke and Duchess of Plaza Toro are John Pillsbury, who is used to playing G&S upper crust snobs, and Tamarah Ashton, who delights in her comic solo "On the Day When I Was Wedded." Pillsbury is featured in the obligatory patter song "In Enterprise of Martial Kind," defining his character with a run-on string of adjectives.
Their daughter Casilda, the queen-to-be who is searching for her king, is played by Tara McGrath, adding a magnificent mezzo soprano voice to the mix.
Jeff Berg brings his stunning tenor to the role of Luiz, the Duke's attendant, whose character takes on a greater significance by the end of the play. The stentorian tones of John McCool Bowers are perfectly suited for the Grand Inquisitor, an imposing presence garbed in black-and-white.
In addition to Rebecca Pillsbury's flawless direction, mention should be made of Chris Hanes' impressive set design, which necessitated the crafting of a Venetian canal, complete with motorized gondola and two drawbridges.
Zach Spencer led the five-piece orchestra; the sumptuous costumes were created by a crew headed by Erin Heulitt and Julia Gump, and the seamless choreography was by Jeff Wallach. The two words that best describe this production of "The Gondoliers" are "Rapture, rapture!" "The Gondoliers" continues through Sun., Oct. 16 at the Theatre on the Hill at the Hillcrest Center for the Arts, 403 W. Hillcrest Drive, Thousand Oaks. For information, visit www.vcgsrc.org or call (805) 381-1246.

Utopia, Limited - 2012 Review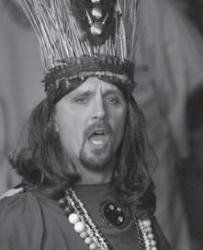 Joe Mancuso


This month, Gilbert and Sullivan fans are getting an especially rare treat, as the Ventura County Gilbert & Sullivan Repertoire Company presents one of the pair 's most infrequently performed operas, "Utopia Limited," at the Theatre on the Hill in Thousand Oaks.

Premiered in 1893, the show came at a time of great acrimony between the two composers, who had been quarreling over the cost of a carpet used at London 's Savoy Theater. The rift was so great that flaws in the opera resulted from the composers ' tenuous working relationship.

The plot concerns a mythical barbaric island called Utopia, ruled by King Paramount, whose reign is subjugated by Scaphio and Phantis, two "wise men" who are more concerned with their own seamy side businesses than the welfare of Utopia 's subjects. These rapscallions are abetted by Tarara, the Public Exploder, who will blow up the king at the hint of any indiscretions.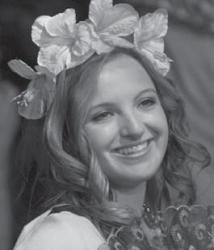 Sara Messina


The unseemly trio 's plans are thwarted when the king 's governess, who has been tutoring the royal daughters in gentility and proper English manners, arrives with a coterie of six members of the British ruling class ("The Flowers of Progress"), who proceed to domesticate the island by declaring each individual a corporation and instituting the ways of English life.
The story has many flaws and loose ends in Act 1 that are never really resolved in Act 2, during which the usual romantic inclinations by the major characters are jettisoned as the plot shifts to focus on the island 's political transformation. The show makes passing references to two previous G&S hits, "The Mikado" and "H.M.S. Pinafore," with one of the arriving noblemen actually called Captain Corcoran (introduced to the tune of "My Gallant Crew, Good Morning," using new lyrics). Joe Mancuso is masterful as King Paramount, who is forced to ghostwrite scandalous items about himself in "The Palace Peeper," a Utopian version of the National Enquirer.
Gary Saxer and John Pillsbury play Scaphio and Phantis, respectively, who find their power over the king diminishing with the arrival of the erstwhile cabinet. The trigger-happy Tarara is deliciously played by David Gilchrist, who gives his character an aura of giddy insanity.
The requisite stuffy authority figure, a hallmark of G&S operas, is a female in this case, the governess Lady Sophy (Tamarah Ashton-Coombs). The governess attempts to make proper ladies out of the king 's tittering younger daughters, Kalyba (Sara Messina) and Nekaya (Stephanie Klimek) who exhibit fine singing voices.
Jeff Berg is Captain Fitzbattleax who has fallen for the king 's older daughter Princess Zara (Elizabeth Harmetz). Berg 's pleasing tenor and Harmetz 's soprano are only two of the universally excellent singing voices displayed by the cast.Most of the musical highlights occur in Act II. The delightful "Society has quite forsaken" is sung by the six cabinet officers as they stoically bang on tambourines during their patter chorus.The most effective song in the show is a patriotic madrigal, "Eagle high on cloudland soaring," beautifully sung with a melody as moving as anything Sullivan ever composed.
The show is yet another sharply delivered satire on Victorian-era Britain that rings relevant more than a century later.
"Utopia Limited" plays at the Theatre on the Hill through April 1. For tickets, visit www.vcgsrc.org or call (805) 491-6103
'The Sorcerer' Enchanting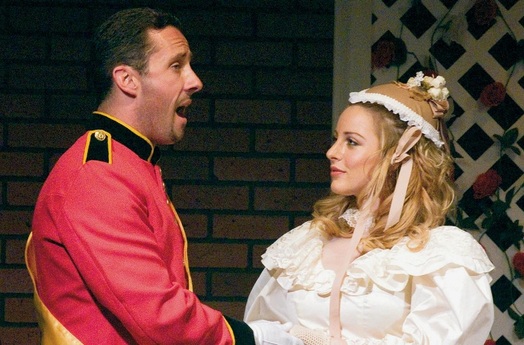 2010-09-30 / Dining & Entertainment
By Cary Ginell (email:
soundthink@aol.com
)
ALEXIS AND ALINE - Nick Newkirk and Stephanie Kupfer sing of love in the VCGSRC production of "The Sorcerer." The Ventura County Gilbert & Sullivan Repertoire Company kicks off the Halloween season with "The Sorcerer," an operetta whose plot centers on magic, incantations and a mystical love potion gone haywire. The work, which was first produced in 1877, was Gilbert and Sullivan 's third collaboration but their first full-length operetta.
"The Sorcerer" proved to be a portent of things to come, and several familiar G&S hallmarks make an appearance in the show.
The plot is fairly straightforward and not as convoluted as later G&S story lines: Alexis and Aline, a blue-blooded couple from the fictional village of Ploverleigh, are betrothed to be wed. Alexis, who is in a "lucid lake of liquid love," believes that "love should unite all classes and ranks." He engages the services of a sorcerer (using his 25 percent military discount) to cast a spell over the non-married residents in an attempt to pair them off.
There are no mistaken identities, no elaborate masquerades and no catastrophic misunderstandings, all of which populate later G&S shows. Nothing really happens until the end of Act I, when we meet the mysterious John Wellington Wells, "dealer in magic and spells," played by Gary Saxer.
Grinning like a malevolent Mr. Hyde in midtransformation, the top-hatted Saxer is a one-man medicine show, producing a potion that he uses to spike the villagers ' tea. Gilbert 's introductory patter song for Wells includes the tongue-twisting lyrics that would become a G&S hallmark.
At an engagement party for Alexis and Aline, the villagers drink the tea and fall to the ground, unconscious. When they awaken in Act II, they fall hopelessly in love with the first person they see, resulting in a variety of "ill-assorted unions."
Nick Newkirk is dashing as the aristocratic Alexis; his mellifluous tenor highlights one of the prettiest songs in the show: the waltzy "Thou Has the Power."
Aline, well-played by newcomer Stephanie Kupfer, is a descendant of Helen of Troy; she refuses to drink the potion herself because of her undying devotion to Alexis. When she changes her mind and does drink, she falls instantly in love with the middleaged vicar, Dr. Daly (a perfunctory John Pillsbury).
The potion causes other mismatches, including Wells himself, who is the mortified target of affection of the ancient Lady Sangazure (Sydney Bowling).
Zach Spencer leads a compact, disciplined five-piece orchestra that plays Arthur Sullivan 's tuneful music. The costumes and set design are splendid, and the members of the ensemble perform with elegance and grace.
"The Sorcerer" provides a fascinating look at this nascent stage of the duo 's career.
---
'Sorcerer' casts quite a spell
T.O. troupe conjures up Gilbert and Sullivan 's first full-length opera with magical results
By Rita Moran
Arts Writer
Posted September 30, 2010 at 12:01 a.m.

Start the potion with one part good intentions, add a zesty cast and a dash of good old-fashioned hucksterism, and just like magic, "The Sorcerer," Gilbert and Sullivan 's first full-length operetta, appears.

Of course, it takes a lot of down-to-earth hard work to make it a successful show. The Ventura County Gilbert & Sullivan Repertoire Company has plenty of that essential ingredient, from executive and artistic director Rebecca Pillsbury down to the smallest stage and technical roles. What makes "Sorcerer" work well is that those tasked with minor parts are just as engaged and obviously enthusiastic about their parts as are the featured singers and actors. When there are 30 people onstage - plus many folks backstage taking care of all of the technical activity - the result could be a shambles.

Not this production, which seems to have been tapped by a bit of magic, making it well-organized, well-sung and well-acted throughout. There are finer or lesser voices, but the cast spanning many decades demonstrates a fine sense of knowing how to make good use of each moment on stage. Music director Zach Spencer and his skilled musicians lend inestimable support, too.The "sorcerer" in the title is actually John Wellington Wells, played with customary zest by Gary Saxer, who knows his way around a stage and obviously relishes his role as the not-so-lucid man who claims to be able to make the impossible happen through his mysterious elixir. He stirs the pot, and the plot, but things not surprisingly veer out of his control. Saxer is a perfect fit for the patter songs with his elaborately perfect enunciation and a tongue that never seems to get tripped up, even in the speediest of numbers.

Lending other good voices to the fray are Steve Perren as Sir Marmaduke Pointdextre, father of his about-to-be-wed son, Alexis (Nick Newkirk); and John Pillsbury as The Vicar, who becomes entangled in the messy skein that evolves from the distribution of the magic potion to the entire village. Pillsbury, in one of his most extensive roles in the G&S series, reveals his own vocal strength and warmth.

In a show that is all about getting married or having a love match, the women clearly have a lot to say. The bride, Aline Sangazure, is sung with agile and graceful voice by Stephanie Kupfer (alternates sing a handful of roles on designated nights), and the young village maiden Constance (Molly Siskin) lends a delicate but lovely voice as well. Tamarah Ashton scores as Constance 's mother, both as a singer and actor, and Sidney Bowling plays the key role of Lady Sangazure, "a Lady of Ancient Lineage."

The chorus is solid throughout, portraying the two sides of the 19th-century British class coin, which is what Gilbert and Sullivan were spoofing in their commingling storyline.

Rebecca Pillsbury pointed out in her introduction to the audience that after this season, only three G&S shows remain that the troupe hasn 't staged in its dedicated effort to bring them all to county audiences. They might be forced, she said with a smile, to start all over again.

E-mail Rita Moran at ritamoran@earthlink.net.

© 2010 Ventura County Star. All rights reserved. This material may not be published, broadcast, rewritten or redistributed.

Read more: http://www.vcstar.com/news/2010/sep/30/sorcerer-casts-quite-a-spell-to-troupe-conjures/#ixzz12BtF6xgL - vcstar.com
___________________________________________________
'Mikado' pokes fun at authority
Play review
By Cary Ginell Soundthink@aol.com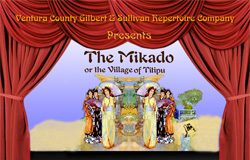 BRITISH WIT- PoohBah (Steve Perren, center) reprimands PittiSing (Melora Hutton, left), Yum-Yum (Megan Crockett, on the floor) and Peep-Bo (Rebecca Pillsbury, right) in "The Mikado," playing through Sunday at the Theatre on the Hill, Thousand Oaks.
The Ventura County Gilbert & Sullivan Repertoire Company continues its run of classic Gilbert and Sullivan works with "The Mikado," probably the most famous and certainly the most often performed of the duo 's comic operas. Originally staged in 1885, As with all of their works, "The Mikado" pokes fun at authority figures, male/female relationships and social institutions in Britain during the Victorian age.
Gilbert and Sullivan set the opera in Japan, making certain that the costumes, the settings, and the actors ' movements were as authentic as possible. But the similarities stopped there, with the dialogue, songs and humor typifying the wry British wit and language of all of G&S 's other works.
The characters ' names are meant to sound Japanese, when in actuality they are merely English baby talk. One such name, Pooh-Bah, has since entered the lexicon to describe any pompous official who holds a variety of offices.
Repertory regular Steve Perren plays Pooh-Bah, who holds so many offices he 's called the Lord High Everything Else. He 's in this exalted position only because nobody else wants to serve Ko-Ko the Lord High Executioner, a former tailor condemned to death for flirting. Unless Ko-Ko can come up with someone to behead in the next month, he has to behead himself, something that is admittedly quite difficult to do.
As Ko-Ko, Gary Saxer steals the show. His mugging, leering and quirky dancing, especially in the patter song "Here 's a How-De-Do," bring to mind the late Groucho Marx, who himself played Ko-Ko in a 1960 made-for-television production.
Karen Sonnenschein plays Katisha, the elderly spinster with "a caricature for a face," who is spurned by everyone she meets except Ko-Ko, who woos her to get out of certain death. Sonnenschein is Margaret Dumont to Saxer 's Groucho, and the scenes with the two of them together are preciously funny.
Brightening every production she 's in is Megan Crockett, who makes for a delectable Yum-Yum, as vivacious as Katisha is plain, but as vacuous as every G&S heroine. Crockett 's sweet soprano and Sonnenschein 's operatic alto are easily the best voices in the show, but one shouldn 't forget Melora Hutton. As Pitti-Sing, Hutton displays a melodic sweetness, as highlighted in her solo, "Braid the Raven Hair," which leads off Act II.
As with many G&S operas, the best moments are the patter songs and the ensemble numbers. Even better are the patter ensemble numbers, especially "I Am So Proud," featuring the three stalwart males of the company, Saxer, Perren and John Pillsbury (Pish-Tush).
And if you 've never seen four people in Japanese kimonos perform an English madrigal, then you must hear "Brightly Dawns," featuring Pillsbury, Crockett, Hutton, and Francis Cabison as Yum-Yum 's young suitor, Nanki-Poo.
One can 't see this show without marveling at the colorful and luxuriant costumes created by Bianca Jansen (who does double duty by acting in the Ladies Ensemble). Since the repertory company began in 2006, Jansen has been utilizing the costumes she designed for its premiere production, "Sullivan and Gilbert,"in which segments from many of the team 's operas were featured. The work Jansen did for that show enabled her to create a costume closet that would support the company for years to come.
Kudos also go to scenic artist Bonnie Long Hemsath for her exquisite hand-painted Japanese garden set used in Act II. The four-piece "orchestra" belied its small size and was ably conducted, as always, by Zach Spencer.
This "Mikado"proves to be an exemplary and faithful performance of a timelessly entertaining work. I would urge everyone to go see the show.
Performances are staged through Sunday, March 16, at the Theatre on the Hill at the Hillcrest Center for the Arts, 403 W. Hillcrest Drive, Thousand Oaks. For times and prices, visit the website at www.vcgsrc.com.
---
Multiple 'Mikados'
Two local companies are staging same comic opera
By Rita Moran (Contact)
Thursday, March 13, 2008
Dueling ditties are in the air this month as two Ventura County troupes present Gilbert & Sullivan 's "The Mikado."
Comedy Tonight Productions opened its version Feb. 29 at Oxnard High School. It plays there through Sunday. The Ventura County Gilbert & Sullivan Repertoire Company 's production opened Friday and continues through March 30 at Hillcrest Center for the Arts in Thousand Oaks.
The Gilbert & Sullivan Repertoire Company, under executive and artistic director Rebecca Pillsbury, began its series of Savoyard repertoire in 2006. Comedy Tonight, which has been on hiatus for a few years, has just been revived by Gabriel Vega and, coincidentally and unfortunately, chose the same musical vehicle to reintroduce itself.
Both productions have their virtues and highlight the satire, verbal play and zesty music of Gilbert and Sullivan. Here 's a rundown on each production, beginning with the first to open, Comedy Tonight 's.
Comedy Tonight
The opportunity to perform its show in the new Oxnard High School auditorium gives Comedy Tonight a fine modern stage with up-to-date technology with which to work. The access was facilitated by actor and technical director Bob Decker, an English and drama teacher at the school who is often seen on local stages.
Another leg up is an association with Linda Bredemann as costumer. Bredemann ran the Moorpark Melodrama theater for years and built up a serious costume collection during that time. So, Comedy Tonight folks are very well-clad, and carry large, matching Japanese fans as props. The conspicuous fans are snapped open and shut with military precision throughout the show, to notable comic effect.
Conspicuous members of the cast have extensive or at least some experience in the melodrama mode, and it shows. Vega not only directs the show, with the help of assistant director and stage manager Howard Leader, but also turns those well-honed, larger-than-life skills from the melodrama stage to good effect in his role as Pooh-Bah, the Lord High Everything Else in the mythical Japanese town of Titipu. Bringing some of the same background plus vast local stage experience is Damian Gravino as Ko-Ko, Lord High Executioner. Both men incorporate some of the brazen melodrama come-ons, with Gravino even gesturing at one point for more applause so that he and his cohorts can return to center stage and repeat a patter song at tongue-twisting pace. There 's no question they are effective, even while stepping out of the typically more subtle G&S; style.
There are a number of good voices in a cast full of mostly young and middle-age actor-singers, among them Patricia Lathrop-McPherson as the delectable Yum
Yum, Kenny Larson as the central figure Nanki-Poo and Bailey Fator as the avenging Katisha who was "promised" to Nanki-Poo before he hit the road to escape
her clutches.
Music director Jessica Helms, providing accompaniment from her piano, gets commendable precision from the soloists, ensembles and chorus. The music is well-served. Most of the essential characters also have properly precise diction, which helps a lot when they 're singing some of the fastest-delivery lyrics in theatrical history. One who really stands out vocally, and with imperial diction, is John Logues as The Mikado.
Gilbert & Sulivan Repertoire Company
Like her counterpart in the Oxnard production, director Rebecca Pillsbury does double duty, playing one of the giggling girls, Peep-Bo. Music director Zach Spencer, a seasoned hand, leads a small instrumental ensemble from his keyboard, providing a fuller accompaniment that also serves to bridge gaps between the final notes of a song and the next action or dialogue.
The Theatre on the Hill stage provides enough space, but is not as ideally laid out as Oxnard High 's stage. It also sports fewer built-in technical aids. Still, simple but appropriate scenery sets the stage in both acts, with Japanese-inflected painted panels providing a gracious background in the second. The intimacy of the space allows for interplay with the audience, used to good effect. Bianca Jansen created the costumes, particularly successful among the women and in the festive bridal scene.
The Repertoire Company's cast skews both older and younger than Comedy 's, primarily because most G&S; devotees came by their predilection years ago. But there are adept children and teens in the cast, balancing the veteran players. In this staging, longtime vocal favorite Gary Saxer easily wraps up the comic and vocal honors with a thoroughly engaging effort as Ko-Ko, the "villain" of the piece. He dances across the stage while singing at top speed with excellent diction, even at Friday 's opening night when he struggled with a slipper that slipped off his foot mid-song. Steve Perren adds a well-sung Pooh-Bah and Karen Sonnenschein delivers her operatic take on Katisha, complete with lots of attitude.
As the young lovers, Megan Crockett lifts a lovely voice as Yum-Yum and Moorpark College student Francis Cabison provides a pleasant tenor voice as Nanki-Poo.
The chorus is strong, the men booming, the women twittering, all as designed. The major songs, by chorus, small ensembles and soloists, get a reasonably good ride and provide another opportunity to enjoy the fun of such gems as "A Wand 'ring Minstrel," "Brightly Dawns" and "The Flowers That Bloom in the Spring."
Of course "The Mikado" is not really about Titipu or Japan for that matter. It 's about the foibles and pretensions in British society of the Victorian era, and the message comes through clearly and amusingly in both local productions.
- E-mail Rita Moran at ritamoran@earthlink.net.
---
Ruddigore: fiddle-dee-dee-lightful
Play Review
By Cary Ginell soundthink@aol.com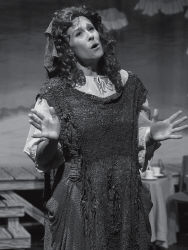 J.S. PILLSBURY/Special to the Acorn POSITIVELY BONKERS- Mad Margaret (Molly Pei) is driven insane during the spooky production of "Ruddigore" at the Hillcrest Center for the Arts in Thousand Oaks. The Ventura County Gilbert & Sullivan Repertoire Company mounted the show. For information, call (805) 491-6103 or visit the website www.vdgsrc.org.
One of the Conejo Valley 's most talented repertory companies recently completed its run of Gilbert and Sullivan 's spooky operetta "Ruddigore," just in time for Halloween.
Subtitled "The Witch 's Curse," "Ruddigore" was staged by the Ventura County Gilbert & Sullivan Repertoire Company at the Hillcrest Center for the Arts. The production was highlighted by a haunted gallery of ghostly paintings that come to life.
The repertory company is a nonprofit organization of Gilbert and Sullivan enthusiasts who present faithful representations of two satirical operettas by librettist W.S. Gilbert and composer Sir Arthur Sullivan each season.
"Ruddigore" bears the hallmarks of many G&S operettas, which include a goofy premise, a winsome heroine, assumed identities and a gaggle of witty and melodic songs.
Sir Ruthven Murgatroyd (John Gaston) is the standard-bearer of a family curse that dictates he must perform a crime a day for the rest of his life or suffer the penalty of death by torture the day that his crimes cease.
Since he has been avoiding the curse by masquerading as simple farmer Robin Oakapple, the curse has been transferred to his younger brother, the evil baronet Despard (John Pillsbury), who has become the scourge of the land, driving his lady, Mad Margaret (Molly Pei), positively bonkers in the process.
Sir Ruthven is in love with the fair Rose Maybud (Megan Crockett), but his plan to court her has been foiled by his opportunistic foster brother Richard Dauntless (Eric Sheeler), a sailor who is on leave. Richard doublecrosses Sir Ruthven and takes Rose for himself, triggering, in the first act, wacky back-and-forth partner-swapping as the two battle it out for Rose 's affections.
At the end of Act I, the couples are all paired up amicably, and this might as well have been the end of the show. The curse, however, takes over the plot in the second act.
Criminal deeds
In Act II, Sir Ruthven 's true identity is revealed by Richard, and he must begin committing crimes in Despard 's stead. When his crimes are not deemed vicious enough, Ruthven faces a virtual "court of dishonor" when paintings of his dead ancestors come to life. They proceed to admonish and threaten him for his notso-wicked deeds, which include filing a false income tax return ("Everybody does that!" the ghosts exclaim).
In the end, a typically convoluted G&S plot twist ties things up neatly in a rousing finale.
John Gaston and Megan Crockett shine as the young Sir Ruthven and Rose. As Dauntless, Eric Sheeler may not have the voice his co-stars have, but he more than makes up for it with his comic acting talents, not to mention dancing up a mean hornpipe. Dependable John Pillsbury does his usual impeccable job in the key role of Despard, but Molly Pei steals the show with her daffy portrayal of the looney Mad Margaret. Key supporting players include Steve Perren as Ruthven 's dead uncle Sir Roderic and Terry Fishman as Ruthven 's gofer, Old Adam Goodheart.
Most of the rapidfire patter songs in "Ruddigore" are sung by groups rather than individuals, making the lyrics doubly hard to articulate in unison; however, the cast carries it off without a hitch. Most noteworthy was the trio of Sir Ruthven, Sir Despard and Mad Margaret singing the hilarious "My Eyes Are Fully Open."
Special kudos to set designer S.B. Murray for the brilliant portrait gallery set in the second act, in which the deceased baronets pose as fulllength paintings before literally stepping out from the walls to confront Sir Ruthven, occasionally even spooking the audience during their songs.
Sullivan 's wonderful melodies often take a back seat to Gilbert 's acrobatic lyrics, but two of his best were "If Somebody There Chanced to Be," beautifully sung by Megan Crockett, and "There Grew a Little Flower," by Lalanya Gunn (as Dame Hannah) and Perren.
The company 's next production is "The Mikado," scheduled for March. Auditions will be held Nov. 17.
---
Local troupe brings Gilbert and Sullivan 's zany 'Ruddigore' to life in T.O.
By Rita Moran
Thursday, October 11, 2007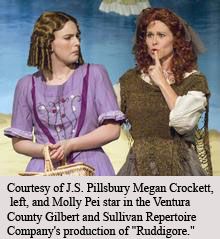 The Ventura County Gilbert & Sullivan Repertoire Company is continuing on its merry way, bringing to the Hillcrest Center for the Arts in Thousand Oaks the latest in its continuing series of Gilbert and Sullivan operettas. This time it 's "Ruddigore," with its alternate designation, "The Witch 's Curse," putting right in season for the run-up to Halloween.
Key players return with Rebecca Pillsbury as director and Zach Spencer as assistant director and leader of the band, actually two sidemen, Art Gibson on bass and Mike Munson on woodwinds, to blend with Spencer 's keyboard finesse.
Musically, the show works reasonably well, with the central principals, Megan Crockett as Rose Maybud and John Gaston as Robin Oakapple, not only equipped with voices suited to their tasks but also comfortable with the mock seriousness of the book and lyrics. Even the patter songs scattered throughout the show and among the cast are presented with unusual clarity, though in a few cases not at a lickety-split pace. There are fine voices among the choraliers, a few of whom get to step forward for their own featured songs.
With a cast of two dozen, coordinating it all must be a challenge. After all, the troupe is presenting some of the most difficult material available for singer-actors who are serious about their craft, but also must be capable of portraying the mocking spirit of the operettas. Somehow they manage to hit a good percentage of the high notes of humor and song.
Crockett and Gaston lead the way with their combination of good singing and a solid sense of silliness. Among the others: Molly Pei 's deliciously zany Mad Margaret, who lost her chance with Sir Despard Murgatroyd (the able John Pillsbury) years earlier, but finds a way back into his good graces, and his home; Lalanya Gunn as Dame Hannah, who also missed out with one of the Murgatroyds (Sir Roderic, played by Steven Perren) but ultimately comes together with him in the charming "There Grew a Little Flower" duet; and the jolly sailor Richard Dauntless (Eric Sheeler), who gets in the way of the Rose-Robin romance. Sheeler, who sings enthusiastically if not quite polished at the top, employs a more than passable Irish accent and is well cast in the amusing role.
There 's lots of dancing in "Ruddigore," choreographed by Claudine Mason, as it was in the previous show, "Iolanthe." In the latter, much was handled by well-trained young dancers and was very easy on the eyes. In "Ruddigore," there is more dancing than necessary, much of it by people who are trying their darndest but don 't quite get it. Give them credit for trying, but a bit less dancing might bring the show in at less than the two hours, 40 minutes of opening night.
Set designer S.B. Murray offers a simple rural backdrop and folksy furnishings for the first act, and an impressive "gallery" of Murgatroyd ancestors posed patiently "on" the wall in the second. All of the Murgatroyds had been cursed to commit a crime every day, or perish. Naturally, lots of them have perished, despite their worst efforts. When Robin is revealed as a Murgatroyd, he becomes the point man, until he figures out a devilishly clever rationale for escaping the burden.
It 's not possible to catch all the witticisms at one hearing; suffice it to say that Gilbert and Sullivan are up to their usual tricks in tweaking British concepts of duty, honor and allegiance.
As always, all turmoil ends and problems are solved with the simple flourish of a toy-sized Union Jack.
---
From the Thousand Oaks Acorn - June21, 2007
Delightful absurdities fill Gilbert & Sullivan 's 'Iolanthe'
By Cary Ginell soundthink@aol.com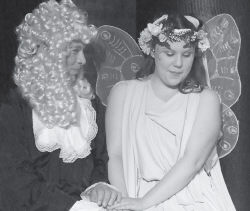 One of the newest and most welcomed theater companies in the Conejo Valley is the Ventura County Gilbert & Sullivan Repertoire Company. Founded in 2006, the company brings the delightful comic operettas of Gilbert and Sullivan to local theater-goers. Its recent production of G&S ' "Iolanthe," which just completed its run at the Theatre on the Hill in Thousand Oaks, proves that the fledgling organization is well on its way to establishing itself as one of the premier performing groups in the county.
Librettist W.S. Gilbert (18361911) and composer Sir Arthur Sullivan (1842-1900) established themselves in the last quarter of the 19th century as masters of the comic operetta. With Gilbert 's biting wit and satirical subject matter and Sullivan 's lively melodies, their shows became hugely successful in England and, in turn, America, a success that has never waned. "Iolanthe" (1882), their seventh collaboration, lampoons a variety of subjects, including class distinction, male/female roles and especially the stuffy British aristocracy.
The ludicrous plot has the usual G&S hallmarks: two lovers prevented from marrying, compounded misunderstandings and a tangled storyline that somehow straightens itself out in a satisfying (albeit ridiculous) ending for all involved.
In the story, the banished fairy Iolanthe, radiantly played by Mona King, has been sentenced to exile in a frog pond for daring to wed a mortal, who we find out is the stiff-upper-lipped Lord Chancellor, played by John Pillsbury, husband of director and company co-founder Rebecca Pillsbury. As the Lord Chancellor, Pillsbury is given the plum role in all G&S operettas: the dignified but bumbling authority figure who gets to perform the tongue-twisting patter songs that immortalized such veterans of the old D 'Oyly Carte Opera Company as Martyn Green and John Reed.
Pillsbury 's deliveries of such classics as "When I Went to the Bar" and "When You 're Lying Awake" (aka "The Nightmare Song") were letter perfect.
The convoluted plot involves the efforts of Iolanthe 's son Strephon (Eric Sheeler) to wed the beauteous Phyllis, ward of the Lord Chancellor, with interference effected by a gaggle of fairies and noblemen.
The performers were universally marvelous; however, several need to be singled out. Thousand Oaks ' stalwart actor Steve Perren was born to play G&S roles. His Earl of Tolloller bookended the delightful Ken Johnson as the Earl of Mountararat as the wouldbe suitors of Phyllis, winningly played by April Crane.
The role of the Fairy Queen was meant to skewer Richard Wagner 's "Ring" cycle, which made its premiere in London just prior to the debut of "Iolanthe." Thus, the queen 's costume was adorned with Brunhilde-esque breastplates, winged helmet and spear. As the queen, Carolyn Freeman Champ brought a robust zest to the role; she nearly stole every scene she was in.
Zach Spencer 's three-man ensemble (keyboard, woodwinds and bass) did an excellent job reducing the orchestral score to its bare essence.
Choreographer Claudine Mason dealt superbly with an ensemble whose ages span more than half a century.
The intimacy of the Theatre on the Hill, located in the Hillcrest Center for the Arts above The Oaks mall, is ideal for G&S works, which are usually played on a large stage, as are most operas. However, the actors ' physical nuances- every wink-wink and nudge-nudge- while lost in larger venues, are readily evident in the smaller room. The stage also gave the cast opportunities to engage the audience, the two lords enticing blushing female audience members to favor them with a waltz while fairies dispensed wrapped butterscotch candies in patrons ' laps.
Next up is "Ruddigore," which will be staged during October. The company promises a champagne gala opening night on Oct. 5. Subsequent performances take place throughout the month. The plot is quite different from "Iolanthe," but appropriate for Halloween, featuring witches, ghosts and even a curse. For information and group discounts, call (805) 491-6103 or visit www.vcgsrc.org.
---
Fron the Ventura County Star - Thursday, June 7, 2007

Ventura troupe delivers Gilbert and Sullivan 's 'Iolanthe' with comic spirit

By Rita Moran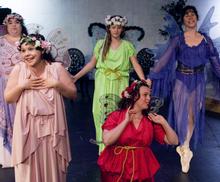 Graceful fairies and galumphing peers fill the broad stage of the Hillcrest Center for the Arts for a romp with "Iolanthe," one of Gilbert and Sullivan 's most successful comic operas, or operettas as the riotously melodramatic works often are called.
The production is another step forward for the relatively new Ventura County Gilbert & Sullivan Repertoire Company, a troupe that relishes the musical and verbal wit of the creative pair.

Staging G&S works requires considerable sophistication and skill, and there 's enough embodied among those onstage and off to pull it off, even though opening night had its share of muffed lines, in dialogue and song, and some rough vocal passages. Still, the company has the spirit, beginning with director Rebecca Pillsbury right on down to the tiniest fairy.
In fact, the fairies were one of the best elements. With their multicolored and multi-shaped wings fluttering on their backs, the group showed grace and spunk, with an impressive stage sense. The real dancer in the fairy band was Claudine Mason, who also is credited with the show 's choreography. Suffice it to say that it was probably easier to train the fairies into light movement than it was to guide the British peers to abandon their natural heavy-footedness.
Helping immeasurably throughout the show was assistant director and conductor Zach Spencer, who propelled the proceedings musically from the keyboard, aided by Mike Munson on woodwinds and Paul Sharp on string bass. The simple combo not only provided sufficient music, but also sounds that were particularly suited to the woodland setting and the artful fairies. Appropriate music bolstered the fine choral singing and supported the soloists.
Voices that stood out in the crowd included the clarion tenor of Steve Perren as Lord Tolloller and Carolyn Freeman Champ as a zesty Fairy Queen, who instigated the tangled situation of the plot when she banned Iolanthe for life for marrying a human. Freeman Champ managed to work in a bit of comic humor in the way she sang as well as with the witty words.
Another player who scores by embodying the G&S style is Ken Johnson as the Earl of Mountararat, projecting with a twinkle of his eye and a shift of his body that he 's in on the joke.
Ably portraying their elements in the opera are Mona King as Iolanthe, April Crane and Eric Sheeler as the young lovers Phyllis and Strephon and Stephanie Blaze and Lalayna Gunn as prominent fairies. John Pillsbury, as Lord Chancellor, survived his patter-song thicket to come out in good form later in the show. His trio with Perren and Johnson is a winner ("If you go in you 're sure to win..."), a number that manages to rhyme into the lyrics just about every popular aphorism of the day: "Faint heart never won fairy lady," "None but the brave deserve the fair," and on and on.
The comic theme of "Iolanthe" is the dullness of the ruling class of peers in the House of Lords as contrasted with the alert cleverness of the underclass. The lords voice distress when the possibility of choosing leaders by a gauge of intelligence is raised, and begin to wonder what kind of work they could find if that were the case. Of course, the fairies, with their enchanting spells, win over all. The fact that they 're women is no impediment. In fact, given the men portrayed in "Iolanthe," it 's probably a plus.
---
From Ventura County Star 11/16/06:
Lively music, clever lyrics come to Moorpark in 'Sullivan & Gilbert '

By Rita Moran
Never mind the why or wherefore, it 's always a cheery sign when the words and music of Gilbert & Sullivan make it to a county stage.In
this case, it 's "Sullivan & Gilbert," Ken Ludwig 's backstage look at the famed partnership, as presented by the newly minted Gilbert & Sullivan Repertoire Company on Moorpark 's High Street Art Center stage.
The company is full of familiar voices and faces, some especially well attuned to the satire and patter-songs of the Victorian pair. Some are not as adept but are out there pitching in with good hearts and good voices.
Jim Seerden plays William S. Gilbert, the dramatist and lyricist, and Terry Fishman plays the composer, Sir Arthur Sullivan, as they go beyond their fabled disagreements over whether music or lyrics should be given most consideration.
Added to that is a confrontation about Sullivan 's hankering for a new young blonde in the production and Gilbert 's dismissal of her as coming from a tawdry show business background and unworthy of a man of Sullivan 's high social standing.
Author Ludwig, whose riotous "Lend Me a Tenor" successfully combines opera and fun, came up with this much tamer product early in his writing career. He lets the clever lyrics and lively music carry the day, while the dialogue moves the slight plot with just a few shots of comic surprise.
The result is that Seerden 's Gilbert does a lot of sober acting in the first act, and only gets to display his musical skill far into the second, when he joins with John Pillsbury, Gary Saxer and Fishman in "When I Go Out of Door," a patter song from the duo 's "Patience" operetta.
When he does get a chance to sing a little and dance a little, Seerden does it with such joy, ease and expertise that one could only wish he could demonstrate all that talent leading into the show, injecting it right off the bat with a sprightly Savoyard spirit.
Director Rebecca Pillsbury does provide an encore of the piece, a bonus that delighted Friday night 's opening audience.
Another standout is Jeff Wallach as Alfred, Duke of Edinburgh, the second son of Queen Victoria, portrayed as a giddy theater fan given his chance to perform and making all possible amateur errors. When he gets to sing, though, Wallach has the voice and style to turn funny into fantastic.
There are lots of voices that lend themselves admirably to the cause, in the well-blended chorus and as soloists.
Kristine Ritterbush sings sweetly and makes the young soprano, Violet Russell, charming enough to be sought out by Sullivan and others, yet awkward enough to indicate the step up she 's taken from a dance hall chorus.
Fine, strong voices are also heard from Carolyn Freeman Champ and Karen Sonnenschein, with a lighter but still quite pleasant effort by Carol-Lynn Campbell.
Among the men, veteran tenor Gary Saxer and late-blooming bass-baritone Steve Perren lend musical substance to the proceedings, joined by the solid voices of Eric Sheeler and John Pillsbury.
In straight acting roles, Michael Jordan, who is producer and set designer for the show and well known locally for his Gothic Productions and Classics in the Park, and Valorie Paradise-Lant show strong stage presence, he as Richard D 'Oyly Carte, the impresario of Savoy Operas who brought Gilbert and Sullivan together, and she as the spunky and wise wife, Kitty Gilbert.
All of the disparate talents are molded together by director Rebecca Pillsbury and hard-working music director Zach Spencer, who conducts from his multifaceted keyboard.