Princess Ida: March 9 - March 25, 2018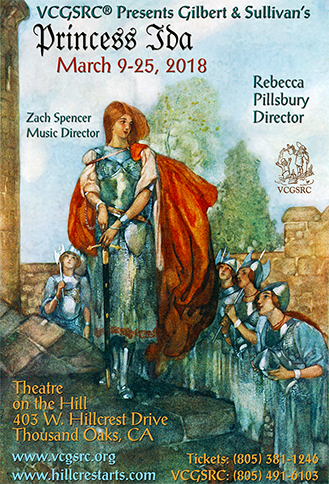 Ventura County Gilbert & Sullivan Repertoire Company:
Tickets to Princess Ida
For season tickets, click here.
Theatre on the Hill
403 W Hillcrest Dr
Thousand Oaks, CA
Box Office: 805-381-1246
Performances Fridays and Saturdays at 8pm and Sundays at 2pm Tickets: $10-$30 (Range between Starving Artists Night and Opening Night Gala) For opening night, $30 for adults and $25 for Children/Students/Seniors. For all other Fri/Sat/Sun performances, $25 for adults and $19 for Children/Students/Seniors.
Group discounts: A 10% discount is available for groups of 10 or more. Group tickets cannot be bought on-line.
For more information please call +1.805.491.6103 or email info@vcgsrc.org
Box Office: +1.805.381.1246
On-line ticketing: www.hillcrestarts.com